RADECS 2021 - Women in Engineering Abstract
The UNOOSA Space4Women Initiative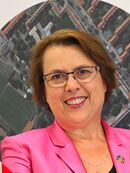 Simonetta Di Pippo

Director
United Nations Office for Outer Space Affairs (UNOOSA)
Disparities exist between men and women within the space sector and science, technology, engineering, and mathematics (STEM) fields. Less than 30 percent of STEM researchers are women and less than 20 percent of the space workforce comprises women. Achieving the United Nations (UN) Sustainable Development Goals (SDGs) requires increased participation from women in STEM and in the space sector. SDG 4: Quality Education and SDG 5: Gender Equality are specifically focused on these topics. To support the achievement of these goals, the United Nations Office for Outer Space Affairs (UNOOSA) has launched a global Space4Women project, which aims to strengthen awareness, capacity, and skills of individuals and institutions to promote gender equality in the space sector. It also helps to communicate and facilitate access to opportunities in STEM education and the space sector itself.
This is achieved through four unique activities: (1) a global Space4Women Network, which brings together female role models and mentors to inspire, guide, encourage, and support women and girls in pursuing STEM education and careers in the space sector; (2) a platform to submit capacity building ideas and needs to facilitate tailored advice, expertise, knowledge, and data to improve access to and use of space; (3) a global discussion forum in which women and girls can share experiences, opportunities, and obstacles about working in the space sector, and exchange information on STEM fields; and (4) annual conferences and events that facilitate multilateral and global dialogue on gender equality in the space sector. Altogether, Space4Women activities provide opportunities to enable, develop, and inspire women and girls to become leaders in the future space workforce.
Simonetta Di Pippo is Director of UN Office for Outer Space Affairs (UNOOSA), a position which sees her lead the Office's strategic, policy and programmatic activities and advising the UN Secretary-General on space affairs. Prior to joining UNOOSA, she served as Director of Human Spaceflight at the European Space Agency, and previously also as Director of the Observation of the Universe at the Italian National Space Agency, ASI. She is an Academician of IAA and a member of WEF Global Future Council on Space Technologies since 2016 and its co-chair since 2020. She co-founded Women in Aerospace Europe in 2009 and in 2017 became a UN International Gender Champion.
She holds a Master's Degree in Astrophysics and Space Physics from University "La Sapienza", and Honoris Causa Degree in Environmental Studies, and an Honoris Causa Degree of Doctor in International Affairs. Ms. Di Pippo was knighted by the President of the Italian Republic in 2006 and, in 2008, the International Astronomical Union assigned the name "dipippo" to asteroid 21887 in recognition of her efforts in space exploration. She was also featured in a publication HERstory: A Celebration of Leading Women in the United Nations, a tribute to women's participation in the development of the UN. Among other awards, she was awarded the Hubert Curien Award in 2018 as the first woman laureate.