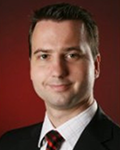 Flexible & Hybrid Electronics – Enabling NFC Sensor Tags For Everyone
Dipl. Phys. Thomas Germann
Identiv GmbH
Recently, NFC chips have become available with integrated sensors, GPIOs or I2C Master capabilities, up to full-blown microcontrollers, which come also in delivery forms suitable for flip-chip attachment to low-cost flexible substrates in roll-to-roll manner.

As of iOS11, iPhone 7 and newer iOS-devices are now also able to read NFC tags, so that now all smartphone OS's support NFC tag reading. However, the implementation is such that special care must be taken during tag-design to be compatible with iOS for NFC sensor tag reading.

Identiv shows its recent advances on next generation flexible NFC sensor tags for the logistics, industrial, pharmaceutical and medical area, augmented by printed electronics components, such as printed resistors, batteries and indicator elements.